In a time when everyone is an "expert," it's hard to distinguish between fact and fiction.
Opinions can be helpful, but when they are delivered as fact, that's when things get dangerous.
Much like the game of telephone, money myths are born out of an original message that is altered slightly as it gets passed from person to person. This phenomenon creates a group mindset, and it happens everywhere—especially in the world of personal finance.
Let's take a few minutes to dispel some of the more common money myths that we see today.
Money Myth #1: The "magic number"
"Saving is a commitment, not an amount."

— Todd Christensen

Everyday Money for Everyday People
"What's your magic number?"
Have you heard this one (or some other variation) before? If you haven't, it's a marketing slogan designed to encourage people to set a retirement goal.
"Big Finance" has done a great job at beating this question into our heads. Unfortunately, the message has created more harm than good—leaving many feeling pressured to blindly pick arbitrary numbers out of thin air without first asking key questions.
This can be problematic since everyone's situation is different, and one person's retirement savings needs may differ from the next. Because of this, several questions need to be answered first in order to arrive at a solid number.
The following are just a few of the many questions you can ask yourself to determine the value of your optimal nest egg:
How will my expenses in retirement differ from my current situation?
How much will my health insurance cost?
Do I have an adequate emergency fund for unexpected expenses?
How much will I receive in social security benefits?
How much of my nest egg will I need to create income (withdrawal rate)?
How much credit card debt will I have?
What other costs will I have in retirement?
Do I plan to pay for long term care insurance, self-fund, or spend down my assets?
Money Myth #2: I need it!
"Don't medicate stress and fatigue with impulse buying.
A shopping spree will set you back even more."

— Dave Ramsey

Dave Ramsey Facebook
We all do it: justifying purchasing something that we don't need.
When stay-at-home orders were in full force, retail therapy was a popular way to soothe our anxieties. And who could blame us? A salad spinner that's 50% off is just too good of a deal to pass up!
However, as we've all experienced, the quick shot of dopamine that an impulse purchase provides is fleeting, and only serves as a temporary respite from whatever emotion ails us at the time.
While cheaper items won't put too much of a dent in our savings accounts, big-ticket items can. So, if you are in the market for something costly, it's best to take a beat and ask yourself these questions before making a decision you might regret later on down the road.
Do I really need it, or do I just want it?
If your car needs frequent, costly repairs, then you probably need to purchase one that is in better shape. However, if your car is perfectly fine, but you want to buy another because you think it's fancy, this is considered a luxury.
Luxuries are fine, as long as they don't affect your bottom line. After all, retirement is a time for fun, and you should take every advantage you can, within reason.
Will I get value out of it?
Value is a subjective term.
Emotion is valuable, so it can be reasoned that a boat, for example, can have value if it brings about joy and happiness to you and your family.
Value is also quantified by dollars and cents.
Buying an expensive item can sometimes be a prudent move, depending on your financial situation. For example, real estate can be a great long-term investment to have in your portfolio. Lots of my clients are active real estate investors. Some of them attribute much of their success to properties they bought decades ago that have appreciated beyond their wildest dreams.
But real estate is just like any other asset—it goes up and down. So, it's best to know when is the right time to buy, and not rely on past experiences to influence future events.
Is now the best time to buy?
Everything goes "on sale" at one time or another. Whether it's a set of golf clubs that is 30% less in the winter or that solid oak dining table that would fit perfectly in your home, everything is priced seasonally—either in cycles or based on supply and demand.
For those who are patient and do their research, a deal is around every corner. This type of retail due diligence can do wonders for your wallet.
Money Myth #3: I have plenty of time to plan
"You may delay, but time will not."

― Benjamin Franklin
Research from FinanceBuzz found that one in five Americans (21%) have not started saving for retirement and more than one in three (35%) say they have "no idea" what they need to save to retire at their target age.
This is a troubling statistic and one that could typically boil down to one or two reasons:
Complacency; or
A lack of knowledge (possibly both)
Of course, there can be arguments made for folks who have a longer timeline. For example, if you have thirty-plus years until retirement, you might have plenty of time to plan. However, you'll be a lot happier when the time comes if you start earlier than later.
But if you're like most of my clients and you're close to the "finish line," your window might be closing fast, and you may have to start playing catch up to reach your goals. I hate to be doom and gloom, but, if this is you, it's best to not delay the inevitable and get the financial guidance you need now before it's too late.
The good news is there is actually a lot you can do to get yourself on track for a comfortable retirement, and you don't have to do it alone. I see new clients every week that are in the same situation as you.
Bottom line, whether you feel that time is on your side or it's too late to start planning, a simple review of your situation will give you the facts you need to put a proper plan in place.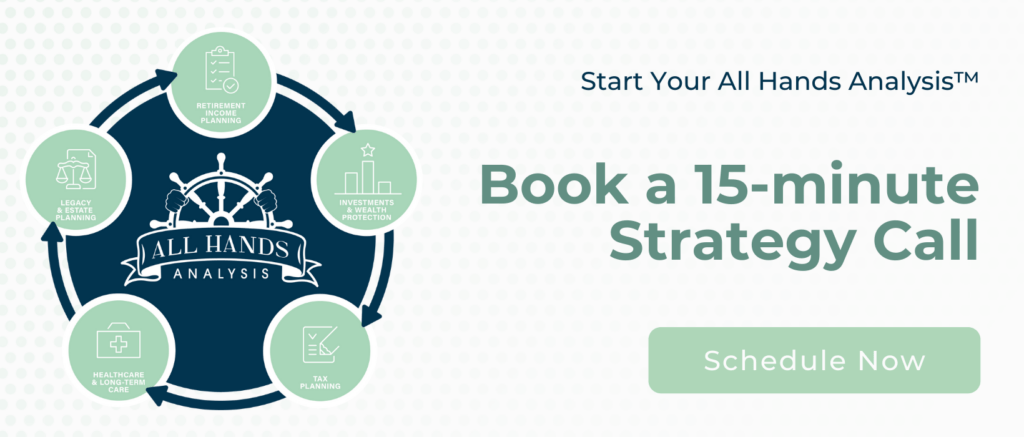 Rowlette and Associates, LLC DBA: South Shore Retirement Services – an affiliated company – is an independent financial services firm offering both insurance and investment services. Investment advisory services are offered only by duly registered individuals through AE Wealth Management, LLC (AEWM). AEWM and Rowlette and Associates, LLC DBA: South Shore Retirement Services not affiliated companies. Investing involves risk, including the potential loss of principal. Any references to protection benefits, safety, security, lifetime income, generally refer to fixed insurance products, never securities or investment products. Insurance and annuity product guarantees are backed by the financial strength and claims-paying ability of the issuing insurance company. Our firm is not affiliated with or endorsed by the U.S. Government or any governmental agency. Neither the firm nor its agents or representatives may give tax or legal advice. Individuals should consult with a qualified professional for guidance before making any purchasing decisions. 1259149 – 04/22