After the chaos of the pandemic, most of us are eager for normalcy to return to our lives and getting back to the routine of seeing our families, having dinner with friends, traveling, etc. But as many companies return to the office or rollout plans to return soon, some workers are saying "not so much." They're reevaluating their options, changing careers, starting their own ventures, or simply not going back to an office 9-5 every day. This is especially true with people who are close to retirement age. Over the summer, I've had many conversations with clients who want to retire from their current job and work part-time in some capacity. For many, this plan offers the best of both worlds. Then you combine the pandemic fallout with the start of school, college students going back to campus, and high schoolers in school most of the day, many businesses find themselves with quite a labor shortage. You know what that looks like? Opportunity. Turns out opportunities abound for those who want to stay in the workforce but make a change. Flashback to your high school days and take that job up again. Consider trying your hand at working at a grocery store, coffee shop, bookstore, etc. I know many young families are looking for childcare help. Nothing keeps you active like chasing a two-year-old. What about the jobs that were born in the new millennium? For instance, I was in an Uber recently and the driver was a retiree. He said he didn't necessarily need the money, but wanted something to do. Totally get that. Whether you're part of the "not ready to leave the rat-race full-time" camp or retirement-hesitant because of the unknowns, here are three pros for the "working in retirement" debate.
Stimulate Neuroplasticity
There are irrefutable psychological benefits to continuing to work (just maybe not full-time). Staying active through a job where you will likely be trained in new skills is an opportunity to keep developing your mind. Who knows? Retirement could be the time in your life where your mind is healthiest. You have the balance of time to recharge but also the flexibility to pursue new hobbies, hone skills, and do what brings you happiness. It can be a great boost for keeping your mind sharp. Some of my clients have done this and were able to put themselves in a better position over the long term, both mentally and financially. I have many clients who are nurses who've gone from working shifts five days a week to just three days a week. So, they're still there, still in the game because they want to stay active. It also takes a massive amount of pressure off whatever money they've saved since they still have some money coming in and are still paying into Social Security. We've helped them with all of the calculations, the actual math, and formulas so they can reach the decision that works best for them.
Postpone Social Security
Speaking of Social Security. Do you know what the difference in Social Security is between taking full retirement at 66 or 70? It's at least 32% more a month if you wait until 70. Maybe it makes sense for you to wait. Maybe not. Maybe you should "half-retire". If their retirement planning income can cover their monthly expenses, then taking on a part-time job to continue working in retirement allows them to continue adding to their nest eggs. These are the conversations I have with clients every day. You need to see what makes sense for you, your lifestyle, and your money. I have clients where it made sense for them to delay retirement so they could stay on their employer's group health insurance plan since it was much more comprehensive than Medicare. So, they plan to see that everything is taken care of — checkups, dental work, etc. — while they're on the group plan and then retire. 
Run a Retirement Dress Rehearsal
I personally think the greatest benefit of working in retirement is the flexibility it provides. I spoke to another client this past week who has a part-time job and a freelance job as well. He told me he was thinking of retiring and wanted to go down to Florida. We reviewed his strategy and figured out he has enough money to retire now if he wants to, but then we got to chatting and he told me his primary job is now a permanent remote one. I said to him, "So, you could actually retire to Florida and keep working, right?" He said, "That's true – I can do this from anywhere if I have a computer. I don't have to be in Massachusetts." So he can retire from Massachusetts, but that doesn't mean he has to retire from his job. I suggested he try a dress rehearsal, which is a tactic I recommend to most of my clients. For six months, try to stick to the budget you'll be on in retirement and see if you can afford the lifestyle that you want on a budget. It's better to figure out what your essential expenses are ahead of time and how much you have leftover for the things you actually want to do. If not, you've at least found your baseline and then can work on saving money for your "likes to have stuff." Because you never should have to worry about running out of money in retirement nor should you compromise on the retirement you want. You've earned it.
In my many years of doing this, I've seen that for most people the biggest hurdle for them is the unknowns. And for most, retirement is unchartered territory – when was the last time in your life you had unending free time at your disposal? Probably when you were a child. This can be incredibly intimidating. Keeping one foot in your pre-retirement life can help your new course feel more familiar, so you feel more confident. That's always my goal when working with clients, I help them chart a retirement for whatever course they choose. You're steering the ship, we're just here to help you on the voyage.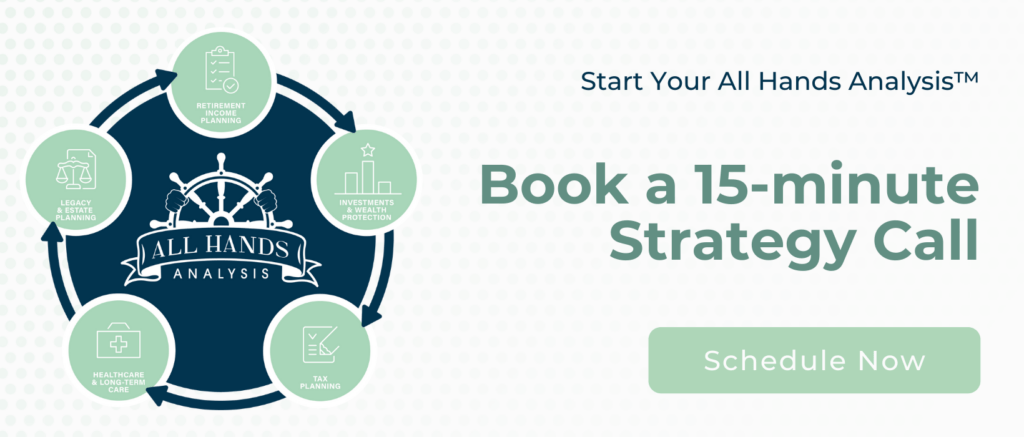 Rowlette and Associates, LLC DBA: South Shore Retirement Services – an affiliated company – is an independent financial services firm offering both insurance and investment services. Investment advisory services are offered only by duly registered individuals through AE Wealth Management, LLC (AEWM). AEWM and Rowlette and Associates, LLC DBA: South Shore Retirement Services not affiliated companies. Investing involves risk, including the potential loss of principal. Any references to protection benefits, safety, security, lifetime income, generally refer to fixed insurance products, never securities or investment products. Insurance and annuity product guarantees are backed by the financial strength and claims-paying ability of the issuing insurance company. Our firm is not affiliated with or endorsed by the U.S. Government or any governmental agency. Neither the firm nor its agents or representatives may give tax or legal advice. Individuals should consult with a qualified professional for guidance before making any purchasing decisions. 1235726 – 03/22